A panel of the finest palates from across Aotearoa are preparing to judge the Outstanding NZ Food Producer Awards 2021.
Food and drink producers have until Thursday 18 February 2021 to enter online at www.outstandingfoodproducer.co.nz ahead of judging on Saturday 6 March 2021.
For the fifth year, the judging panel will be led by advocate for local food producers, Lauraine Jacobs. She will be supported by a host of food and drink experts who will judge in specialist panels across the major categories – paddock, dairy, water, earth and drink.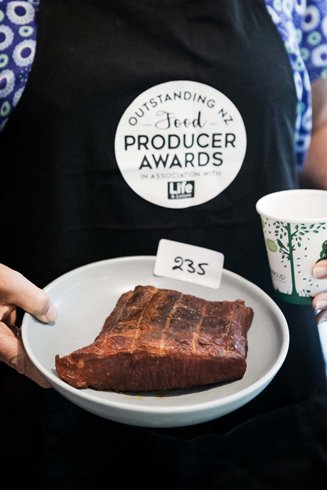 Jacobs said the past year has had many challenges but it has also brought unprecedented opportunity for our food producers. "New Zealanders have developed far greater awareness of locally produced food and are going to continue to seek out the best as they travel around our beautiful country and discover local specialties and fabulous food."
"I'm proud to again head the judging panel of these most important awards and am really looking forward to seeing new and old examples of the innovation and resilience of food growers, food artisans and all food producers who make New Zealand's food scene so special. I urge all food producers to enter the ONZPA, whether you're a new or a long-term business as it's a wonderful opportunity to put the spotlight on your outstanding and delicious work."
The judging panel
The judging panel includes Lucy Corry, food writer; James Thomas, cheese monger; Richard Emerson, brewer; Aaron Pooch, experienced dairy judge; Shaun Clouston, Logan Brown executive chef; Kathy Paterson, food writer; Mat McLean, chef/owner Palate Restaurant; Andy Aitken, Emerson's head chef; Johnathon Robertson, Grocery Category Manager Farro; Anton Leyland, Category Manager Deli Farro; Tamara Rubanowski, Head of Content FMCG Business; Kimberley Dixon, Hospitality Business editor; Amanda Thompson, GM Moore Wilson; Lynda Hallinan, journalist; John Kelleher, chef and AUT hospitality lecturer; Fiona Smith, food writer; Ginny Grant, food writer; Anna King-Shahab, food writer; Lorna Subritzky, media personality and specialist sustainability judges; Emily King from Spira as well as Holly Leach and Fiona Stephenson from the Sustainable Business Network.
Over the past four years of the Outstanding NZ Food Producer Awards over 1000 products have been assessed with 484 medals awarded recognising producers whose dedication creates outstanding products and provides food lovers guarantee of a great product. Outstanding products are awarded Gold, Silver and Bronze Medals. Gold Medal winners are assessed for the Champion and Special Awards.
• Supreme Champion Award
• Emerson's Dairy Champion
• Seafood New Zealand Water Champion
• Farro Earth Champion
• Giesen Wines Paddock Champion
• Label & Litho Drink Champion
• NZ Life & Leisure Spirit of New Zealand
• Outstanding Sustainability
• FMCG Business Outstanding New Product
• Outstanding Free-From Product
• Outstanding New Business Champion
COAST PEOPLE'S CHOICE
Farmers' Markets and New Zealand Food and Drink Producers can be involved in the Awards by getting behind the Coast People's Choice which is voted for through February and March 2021. Farmers' Markets and producers are invited to encourage their customers to vote for them to win the title of Coast People's Choice Outstanding NZ Food Producer or Coast NZ People's Choice Outstanding Farmers' Market.
Outstanding NZ Food Producer Awards Director Kathie Bartley thanked the loyal partners who make the Awards possible; NZ Life & Leisure, Giesen Wines, Emerson's, Farro, Seafood New Zealand, FMCG Business, Label & Litho and Coast.
The 2021 medal winners will be named on Tuesday 23 March with Champions and Special Award Winners announced at the Champions Party at Auckland's Glasshouse on Monday 19 April 2021.