Love your leftovers with New World PODs and we could all save $100,507,602 a year!*
From the store that brought us the award-winning Little Garden promotions– which saw 16,000,000 seedlings planted in pots and plots all over New Zealand – comes a new way to keep Kiwis fed and stop food from being wasted. Introducing New World PODs: a collection of four tough, reusable, and 100% recyclable containers that can be vacuum-sealed to help Kiwis love their leftovers and save tens of millions of dollars' worth of food that would otherwise go to waste.
Dom Quin, who heads up Marketing for New World says, "We're super conscious of the role we can play in helping Kiwis eat better, save more each day and make the most of what they buy from us. With our New World PODs storage system, and the help of Love Food Hate Waste, we're encouraging Kiwis to keep their leftover spag bol or that unused half tomato, and to instead use one of our vacuum sealed New World PODs to keep it fresh and ready to use for days after."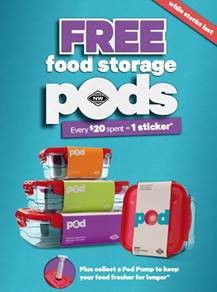 New World PODs are a set of collectable storage containers made from Tritan – one of the toughest, most high-performing plastics around. To make them even more effective they come with a vacuum pump that sucks any air out of the closed container, keeping leftover mashed spuds, grated cheese or broccoli stalks fresher for longer.
Dr Michelle Dickinson, aka Nanogirl, is working with the team to explain the benefits of New World PODs. "I'm backing these PODs because they are BPA free, reusable, recyclable and weigh less than other materials so are kinder on the environment in terms of energy use. Not all plastic is bad – some plastic products like New World PODs can actually be beneficial, provided we use them in the right way and dispose of them correctly once they have reached the end of their life."
The last word really needs to go to Love Food Hate Waste, who have been campaigning for years to stop Kiwis throwing out perfectly good food. Jenny Marshall says, "There is absolutely no excuse for New Zealanders not to be making the most of their leftovers. Initiatives like New World PODs can make a staggering difference to the amount of food we're throwing away and also to our wallets – the less we throw out, the more we save."
New World PODs and the handpumps that vacuum-seal them are available to collect from Monday 3 September through to Sunday 14 October, while stocks last. For every $20 spent in-store, customers can collect stickers that can then be redeemed for a New World POD. Bonus stickers will also be available in conjunction with selected favourite brands.
*Source: https://lovefoodhatewaste.co.nz/food-waste/what-we-waste/
How many stickers will a customer need to earn a New World POD?
Love Food Hate Waste
Feeling guilty about throwing out your leftover food? You're not alone!
Incredibly, 49% of Kiwis admit they throw away leftovers simply because they don't want to eat the same thing twice. What a waste!
Using leftovers doesn't have to mean eating the same meal twice – all you need to do is give them a makeover! It's amazing what you can make with the remnants of your evening meal, and in doing so keep it out of landfills. What's more, you can gloat about how much you're saving on food costs!
Below are some brilliant ideas for using leftovers, from the people at Love Food Hate Waste and the team at New World PODs. There's simply no excuse now, people!